In Papua and East Nusa Tenggara, Indonesia, 4.3 million people are unelectrified. To satisfy their electricity needs, people in these off-grid communities use car batteries to charge their cell phones, gas-powered mills to grind their coconuts, and diesel generators to power local industry. Often the only light in the home is provided by kerosene lantern. To satisfy their basic needs, people in these remote parts of Indonesia are burning expensive and dirty fuels.
Engineer Bryse Gaboury is changing that. Earlier this month, PERC awarded the first-ever Enviropreneur of the Year prize to Gaboury for his focus on clean energy solutions. Gaboury co-founded Electric Vine Industries, a micro-utility delivering affordable, reliable, and sustainable energy to thousands of Indonesian households and communities.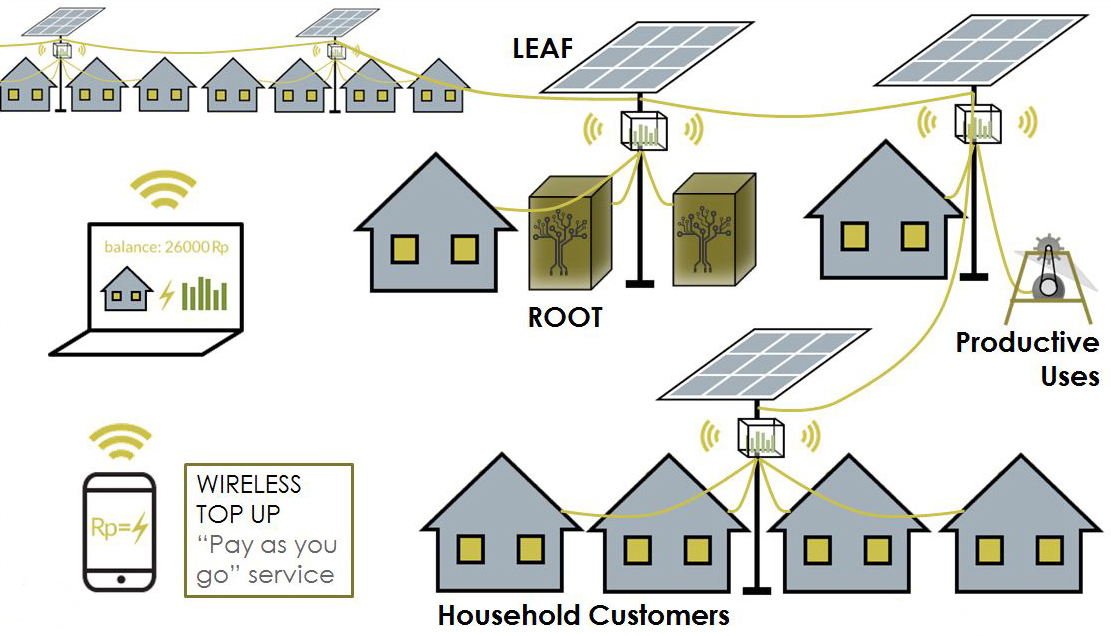 Infographic courtesy of Electric Vine Industries
Gaboury and his colleague, Matt Basinger, have developed a unique solar vine technology which provides rural households and local industries with solar panels, generation units, and storage cells. Smart-grid technology provides real-time monitoring for producers and consumers, as well as pay-as-you-go services via mobile phone.
Electric Vine is already operational in parts of Papau, Indonesia. Their clean solar system is providing power to communities that the state-run utilities are not serving and have no intention of ever reaching.
For the first time in their lives, Electric Vine's customers have 24-hour access to AC energy, allowing them to invest in electric mills, refrigerators, and freezers. In many parts of the world, such appliances are considered modern conveniences. In rural Indonesia, they are the tools that will help subsistence farmers and fishers double or triple their current monthly incomes.
By ending reliance on diesel and gasoline, Gaboury and his colleagues are not just saving people money. Their solar vine technology will also offset approximately 200,000 tons of carbon in the first ten years.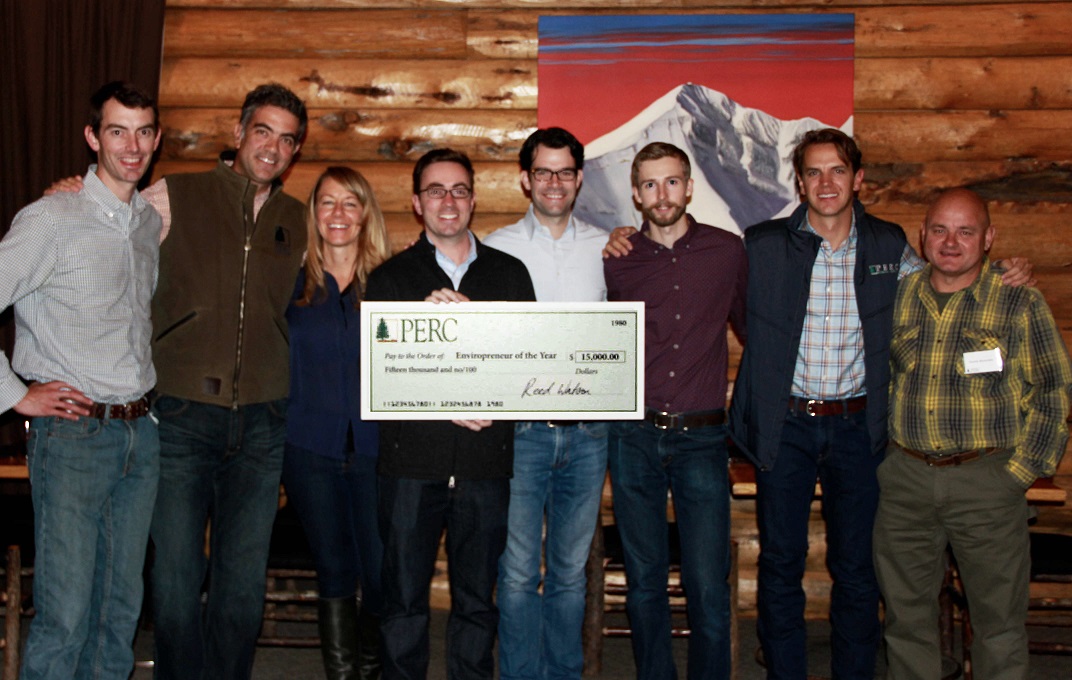 Pictured above with Enviropreneur of the Year Bryse Gaboury with his giant check, runners up  Joe Azzarelli and Davis Graves (2nd and 3rd from the right), and several alumni of PERC's Enviropreneur Institute.
Gaboury was awarded $15,000 in seed funding for Electric Vine as part of PERC's Enviropreneur Institute. Now in its 15th year, the Enviropreneur Institute is where PERC helps turn the ideas of free market environmentalism into action.
Other finalists in the competition were Joseph Azzarelli, a PhD candidate at MIT, and Davis Graves, a health food entrepreneur from Arizona.
As part of his doctoral research in chemistry, Azzarelli and his colleagues have developed a way to monitor the environment and save money. Their wireless chemical sensors monitor water quality for agricultural, environmental, and recreational applications. The sensors, the size of a credit card and designed to be tucked into fishing waders or placed in a body of water, provide users with an inexpensive way to monitor geo-located water quality data with their mobile phone.
Graves is the co-founder of Grassfed Beef Crisps, a quick protein boost made from 100% grassfed beef raised with no added hormones or antibiotics. Grassfed Beef Crisps is not just providing consumers with a healthy snack. Graves and his business partner are also tackling the environmental challenges of industrialized agriculture by providing ranchers with economic incentives to improve stewardship on their land.