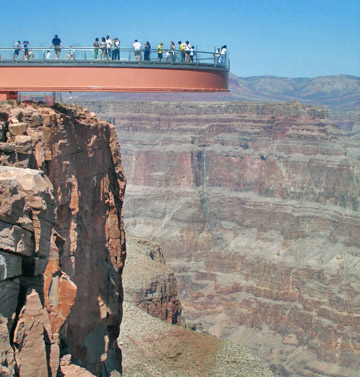 The Grand Canyon is a "crown jewel" in our national park system, one on which the Hualapai Indian tribe, with a million acres bordering the canyon, thought it might capitalize.
To do so, the tribe contracted with Las Vegas developer David Jin to invest nearly $30 million to build the "Skywalk," a horseshoe shaped, crystal-clear, glass walkway jutting 70 feet out from the rim of the Grand Canyon. Since it opened in 2007, 1.4 million visitors have paid $30 to don booties, walk into space, and look 4,000 feet down to the Colorado River.
With expected revenues of $100 million over the next two decades, this project could be a boon to the tribe, but a legal dispute may have killed the goose that could lay golden eggs. The tribe used eminent domain to seize the property, alleging that Jin had failed to finish the visitor center. Jin countered that the tribe had failed to provide promised utilities, did not pay him his share of ticket revenues and had no power to take the property.
On Feb. 11, U.S. District Judge David Campbell ruled in favor of Jin. He found that the tribe had "clearly waived its sovereign immunity" and that its legal arguments were "odd," "nonsensical," and "wholly unconvincing."
The sore effects of this decision go far beyond the $28.6 million judgment against the tribe. Louise Benson, chairwoman of the tribe when the Skywalk contract was signed, said current tribal leaders are "giving the Hualapai a terrible reputation that will injure the tribe for years." She added, "All over Indian country, I think this is bad."
Such actions shake the confidence of investors and lenders who could help Native Americans climb out of the poverty trap. As Nancy Vermeulen, a banker in Billings, Mont., who would like to do more business on reservations told Forbes, "We take on such a huge extra risk with someone from the reservation. If I knew contracts would be enforced, then I could do a lot more business there."
When the U.S. Supreme Court ruled that Montana courts had no jurisdiction to enforce payment of a debt owed by a Blackfeet tribal member to a non-Indian store owner, a state judge opined that the result "was to dry up credit sources throughout the state to responsible Indian citizens."
The lack of confidence in tribal business and legal practices is measurable. A 1953 federal law, which required that "lawless" tribes relinquish their judicial systems to the states in which they reside, allows a comparison with tribes retaining control of their own court systems. Per-capita incomes on the former average 30 percent more, and lenders are 50 percent more likely to make home loans to Native Americans on state-jurisdiction reservations.
All governments face the dilemma: Should they take the entire pie now or accept a smaller slice of a larger pie in the future? Solving this dilemma isn't easy in Indian Country, especially with examples like the Skywalk dispute.
On the bright side, tribes are training their judges better and improving their judicial procedures. Some tribes are adopting uniform commercial codes and implementing legislation to better secure transactions with off-reservation partners.
Those tribes that can resist the temptation to extract wealth today at the expense of future growth have the best hope of breaking the shackles of dependency and becoming truly sovereign.