Birds have gotten some bad news lately. In October, a study in Science found that bird populations in North America have declined by nearly one-third since 1970. Amidst the grim headlines, however, was a silver lining: Wetland birds showed a net gain in population. In particular, migratory waterfowl have flourished, increasing their numbers by 56 percent over that period.
The resurgence of waterfowl populations can be attributed in large part to a unique combination of private conservation, sportsmen-led efforts, and government action. It was duck hunters, in fact, who spearheaded a comprehensive wetlands conservation and waterfowl recovery movement in the early 20th century. Ducks Unlimited, the world's largest wetland and waterfowl conservation organization, has led the way, providing valuable scientific expertise and financial support for conservation. Many of those efforts have been focused on the Prairie Pothole Region—otherwise known as America's duck factory.
---
---
The Prairie Pothole Region, which extends predominantly across Montana, the Dakotas, Minnesota, and Iowa, gets its name from the vast expanse of shallow, kettle-shaped wetlands that dot the landscape. It's called a duck factory for good reason: Prairie potholes provide habitat for up to three-quarters of North America's breeding ducks. Despite the recovery of waterfowl populations, Ducks Unlimited has identified the region as the most important and threatened waterfowl habitat on the continent. Even though federal regulation under the Clean Water Act has often not extended to the majority of prairie potholes, Ducks Unlimited has found creative and effective ways to protect waterfowl in the region.
Preserving Prairies
Ducks Unlimited promotes wetlands conservation in a variety of ways, including complementing federal incentive programs, conducting scientific research, and working with private landowners. The organization's Preserve Our Prairies initiative is a great instance of public-private cooperation at work. The goal of the initiative is to implement a working lands approach to conservation by providing willing landowners with attractive land conservation programs that diversify their incomes. Fundamental to this approach are incentives that exceed the cost of meeting wetlands conservation requirements. Ducks Unlimited's primary wetlands conservation programs include enrolling lands in conservation easements, purchasing critical lands to restore habitat, and providing sustainable grazing management and cover crop assistance.
The principal tactic Ducks Unlimited uses to protect waterfowl habitat is to assist with the purchase of conservation easements that permanently protect wetlands and grasslands from conversion into cropland. Between 1998 and 2012, the U.S. Fish and Wildlife Service and its conservation partners spent $152 million on easements in the Prairie Pothole Region, with Ducks Unlimited as the main provider of private matching funds. The organization contributed $27 million over that period, about 18 percent of total funding.
Conservation easements allow landowners to maintain ownership of the land and continue farming and ranching, provided they refrain from plowing grasslands and draining wetlands. Easements run with the land, meaning that any prescribed conservation measures continue even in the event of a land sale. Agricultural land values and the relative cost of easements have declined or stabilized across most of the Prairie Pothole Region due to decreased crop prices in recent years, making conservation easements particularly attractive for landowners and conservation organizations.
Landowner demand is a critical component to a voluntary conservation easement strategy—and meeting that demand requires resources to fund easement purchases. More than 1,500 landowners across the Dakotas and Montana have expressed interest in enrolling their land in conservation easements under the Preserve Our Prairies plan. In 2017, the easement program protected 86,633 acres across Montana and the Dakotas, a testament to the collective efforts of private fundraising and revenue generated through the Migratory Bird Conservation Fund. The fund collects revenue through multiple channels: the sale of duck stamps, which duck hunters are required to purchase annually; appropriations authorized by the Wetlands Loan Act; excise taxes on hunting equipment such as ammunition; and access permits to national wildlife refuges. Through these mechanisms, hunters who benefit from more and better wetlands bear some of the costs of conservation. Where demand for conservation easements currently exceeds funding, Ducks Unlimited has responded by launching a five-year private fundraising goal of $65 million through 2024 that would unlock an additional $130 million in matching public funding.
Ducks Unlimited also makes outright purchases of priority lands at market value from willing sellers through its "revolving lands strategy." This provides an attractive option for ranchers to retire debt and receive financial security from the sale. Priority lands have much of their waterfowl habitat value intact but are at high risk of environmental degradation because they are adjacent to lands that are farmed intensively or are unprotected by conservation easements. After Ducks Unlimited buys a property, it restores habitat and places a conservation easement on the land. A central element of this strategy is ensuring that wetland restoration provides both economic and ecological returns for future buyers, such as wildlife agencies or private landowners who are willing to work with Ducks Unlimited to maintain sustainable, grassland-based ranching or recreational operations. Ducks Unlimited then reinvests the capital from the sale into the next land purchase.
In addition to buying property, Ducks Unlimited provides financial incentives and technical assistance to ranchers and farmers for wetlands conservation. For ranchers, this includes fencing and watering systems, which separate livestock from waterfowl habitat, and grassland restoration. Farmers receive funds to plant non-cash cover crops outside the normal growing season to provide soil nutrients and wildlife habitat. Cover crops are also an attractive alternative to tile draining, a method that uses perforated pipes buried below the soil surface to remove surrounding groundwater, which is optimal for farming but often detrimental to surrounding wetlands. In the Midwest, where farmers have used tile draining for decades, historical wetlands losses have eclipsed 80 percent in most states.
Water Rules
Despite the resurgence of waterfowl, some environmental groups argue that a proposed reclassification of the "waters of the United States" will significantly reduce wetlands protection in the Prairie Pothole Region by narrowing federal jurisdiction. The definition of such waters, commonly known as WOTUS, demarcates the scope of federal jurisdiction under the Clean Water Act to regulate activities that may alter or pollute the nation's waters, including certain wetlands. The proposed rule excludes a provision from a more expansive 2015 version that provided case-by-case protection to certain prairie potholes. Whether such changes will have a meaningful impact on conservation in the region is a matter of debate. One thing is certain: carte blanche regulation often falls short of its desired purpose—and that makes the multitude of private conservation approaches that Ducks Unlimited is pursuing all the more important.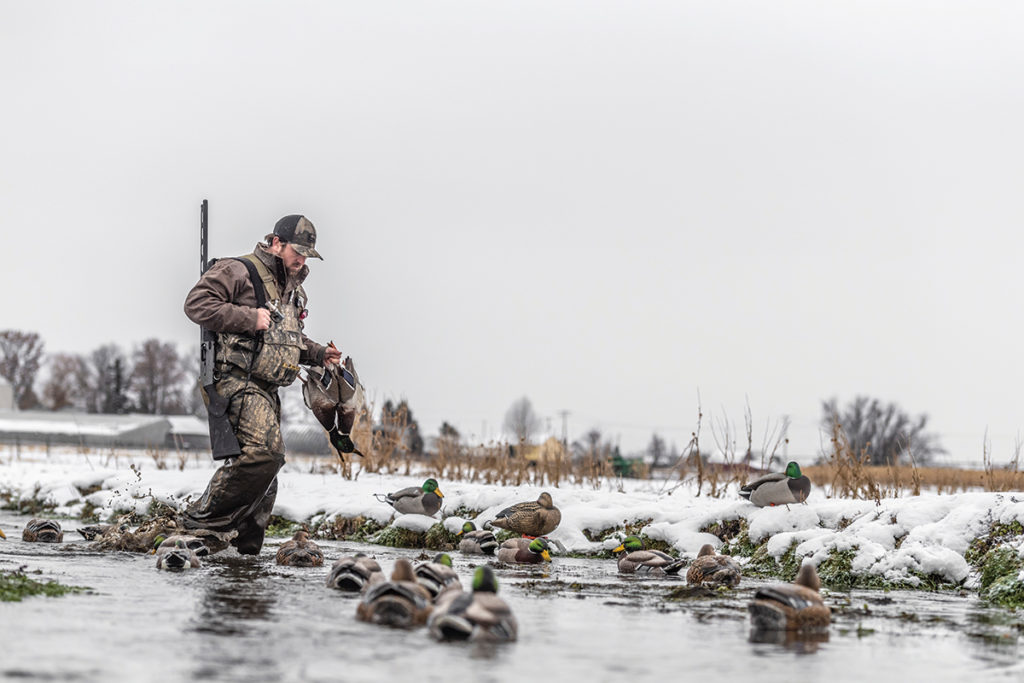 Ducks Unlimited's programs in the region are critical to conserving waterfowl habitat, but they alone are insufficient. Federal conservation grants, effective incentive programs, and public-private partnerships are essential to wetlands protection, particularly as complements to private conservation in the stead of federal regulation under the Clean Water Act.
One example of federal funding is the North American Wetlands Conservation Act, which provides matching grants to organizations that have developed wetlands conservation partnerships that benefit migratory birds. The act has funded more than 2,900 projects over the past two decades, totaling $1.7 billion in grants, matching $3.5 billion in private funds, and affecting 30 million acres of habitat. In the most recent cycle of standard grants, Ducks Unlimited and its project partners in the Prairie Pothole Region received $4.0 million in grants contributing to more than $12.8 million in total proposed investment. In this way, private organizations enhance federal programs by providing matching investment and on-the-ground implementation on private lands.
Changes to the 2014 Farm Bill improved government incentive programs by amending the "swampbuster" provisions to make subsidies for crop-insurance premiums contingent upon conservation compliance—for instance, not draining wetlands to plant crops. These additional constraints on farm subsidies, however, are only effective because the bill also included changes to these programs that ensured the benefits would exceed the costs of meeting compliance requirements.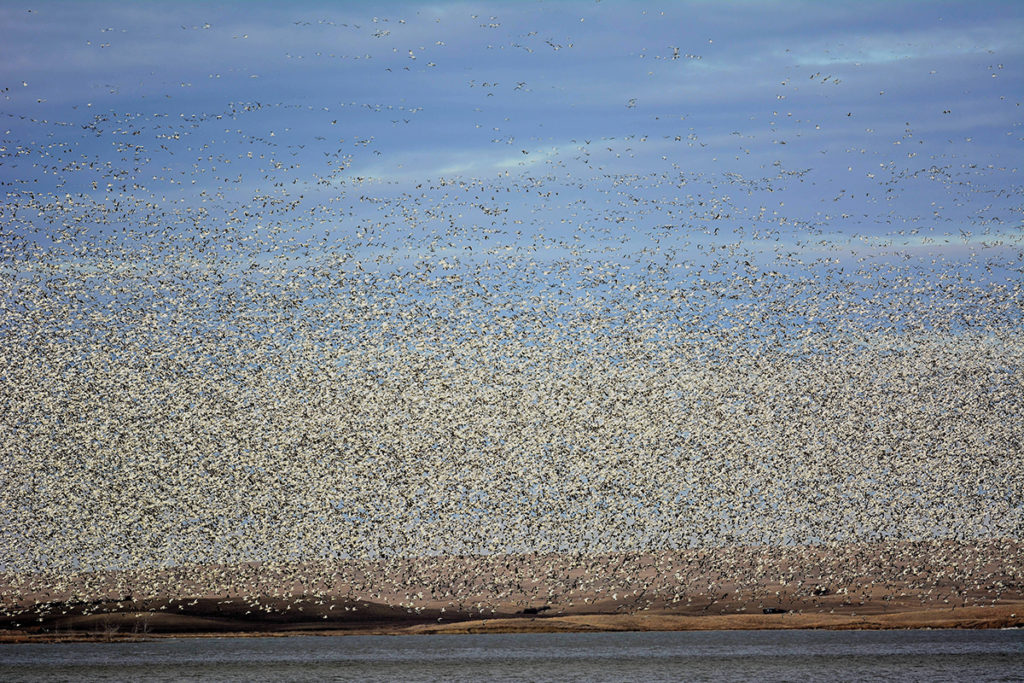 One instance of inducing conservation compliance was extending coverage to small, or "shallow," agricultural losses that are not normally covered by crop insurance. A recent economic analysis by the U.S. Department of Agriculture suggests that these changes to crop insurance programs resulted in strong compliance incentives for farms and ranches in the Prairie Pothole Region that include potentially convertible wetlands. The Conservation Reserve Program has also been an important government incentive program. Under this program, landowners agree to 10- to 15-year leases that provide annual rent payments in exchange for removing certain lands, such as wetlands, from agricultural production.
---
---
Ducks Unlimited is also an active member of the Prairie Pothole Joint Venture, which includes federal and state agencies as well as conservation groups that work together to protect and restore high-priority wetland and grassland habitat. Voluntary partnerships such as these are critical vehicles for agency and private-sector cooperation because they leverage public and private resources to address specific regional conservation needs. Private organizations, such as Ducks Unlimited, can further build and maintain relationships with private landowners to maximize the benefits associated with public-private partnerships.
Pothole Partnerships
Ducks Unlimited's conservation efforts and federal programs disperse the costs of wetlands protection from private landowners to wider beneficiaries through revenues from excise taxes, incentive programs, and private contributions. Yet even with Ducks Unlimited's Preserve Our Prairies initiative, grassland-loss rates exceed conservation rates throughout the Prairie Pothole Region, and wetland-protection rates only exceed loss rates because of the Farm Bill's swampbuster provisions. Many farmers and ranchers consider these federal programs a form of regulation, which makes some landowners less willing to use them. Thus, it is critical for private organizations like Ducks Unlimited to improve the implementation of these programs to strengthen trust in local communities.
A considerable amount of additional funding—from both private and public sources—will be needed to support adequate wetland and grass conservation goals in an incentive-based system. How the conservation community responds will also be critical to the success of an incentive-based approach to working lands. Two things are certain: Ducks Unlimited has laid a brilliant and ambitious plan to save waterfowl and wetlands in the Prairie Pothole Region, and they need our help.