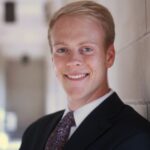 September 2018—The Property and Environment Research Center (PERC) would like to congratulate Dylan Brewer on being named the 2018 "William S. Broadbent Family Graduate Fellow Award" recipient. This award is made possible by the generosity of the William S. Broadbent Family Endowment, which recognizes excellence within PERC's Graduate Fellowship Program.
Dylan Brewer is a fourth year PhD Candidate in the Department of Economics at Michigan State University, where he is also studying in the Environmental Science & Policy Program. Additionally, he has recently been appointed to the Nature Conservancy's Michigan Board of Trustees. Dr. Randy Rucker, a PERC Senior Fellow and director of the Graduate Fellowship Program, selected Dylan for this award noting his significant contribution to the PERC academic community during his residency as well as the relevance and importance of his research to PERC's mission to improve environmental quality through creative conservation approaches.
Dylan's fellowship research paper is titled: "Contract Choice and Energy Use in the Rental Housing Market." This work examines the difference in conservation incentives and the resulting difference in energy use between property rights regimes where the landlord pays for utilities and regimes where the tenant pays for utilities.
PERC's Graduate Fellowship Program gives graduate and law students the opportunity to spend three months at PERC researching and writing a paper under the mentorship of a PERC Senior Fellow. Topics include natural resources, innovative conservation techniques, property rights, and the environment. In addition, fellows are given the opportunity to attend summer workshops given by scholars of diverse backgrounds, conservation professionals, and policy makers that can fasttrack their research and career opportunities. This program is made possible by the generous support of the Helen I. Graham Charitable Foundation.