Fire is an important tool for managing landscapes. How can landowners mitigate wildfire risk and foster rangeland health? At PERC's 2016 Wildfire Solution Summit, the Samuel Roberts Noble Foundation's Chad Ellis shares best practices for prescribed burns.
Fighting Fire with Fire: Looking through the smoke-filled lens of a producer
"Fire is as natural as the sun and the rain," say Chad Ellis and his colleagues on the Noble Foundation's Prescribed Burn team. When it comes to managing a landscape, fire is as important a tool as the axe, the plow, and the gun. Responsible fire management helps lead to healthy rangelands, improved wildlife habitat, and reduced wildfire intensity and frequency.
The Noble Foundation and others are working across counties, states, and firesheds to protect the rights of landowners to use fire as a safe and effective tool. They provide education, training, and equipment to prepare burn plans, acquire prescribed burn insurance, and conduct prescribed burns.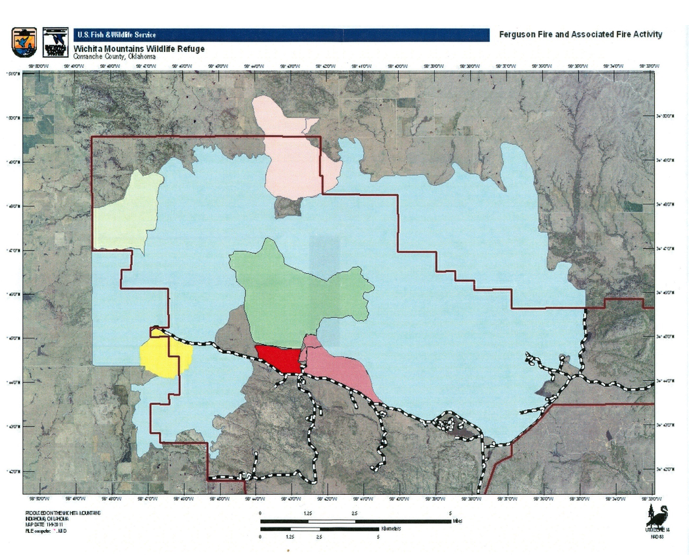 This USFWS map illustrates a 2011 fire that burned 35,000 acres (55 square miles) of the Wichita Mountains Wildlife Refuge in Comanche County, Okalahoma. Blue represents the wildfire. Greens and pinks represent prescribed burns conducted by the Wildlife Refuge. Yellow represents a private landowner whose prescribed burn helped mitigate the wildfire.
From best practices for land management, to financial tools and prescribed burn training, the Noble Foundation provides resources to help ranchers, farmers, and other landowners manage fire. Learn more at noble.org/fire.
Learn more: live-perc-wp.pantheonsite.io/wildfire