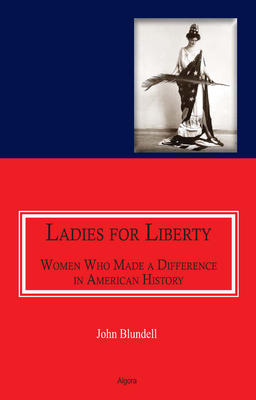 Looking for the perfect holiday gift? Check out Ladies for Liberty. I recently heard author John Blundell discuss this interesting book. Blundell is a distinguished senior fellow with the Institute for Economic Affairs in London and the author of  Margaret Thatcher: A Portrait of the Iron Lady. He was inspired to write Ladies for Liberty because he got "tired of people asking him why there weren't any women in the United States like Margaret Thatcher." Much has been written about the Founding Fathers, as John points out, but there is far less material on the the ladies – smart and strong in their own right – who spoke out for liberty and helped shape the fabric of our nation.
Martha Washington, Sojourner Truth, Abigail Adams, and Ayn Rand are just four of the more than twenty American women highlighted. With this collection of biographies, the author seeks to inform and inspire readers by exploring why each woman was a leader and how she impacted our society in politics, the arts, economics, science, education, and other fields.
Perhaps my favorite chapter is on Rose Friedman. I was lucky enough to be at the Hoover Institution when Dr. Friedman was still with us. Whenever he would give a seminar, Rose would be sitting right next to him. And whenever he got something wrong, Rose would be sure to elbow him! I can't wait for my daughter to read this book.