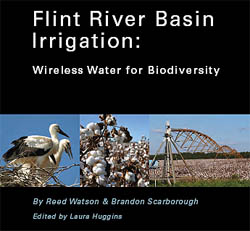 Summary
Farmers in the drought plagued Flint River Basin of southwestern Georgia are working with conservation organizations to keep water instream and underground while maintaining profits in their agricultural operations.
By retrofitting their traditional center pivot irrigation systems with high efficiency sprinkler heads and real-time soil moisture monitors, irrigators can limit water output to meet the precise needs of their crop. The result is a cost-cutting, water-saving measure that aligns profitability with environmental stewardship.
It also explains how this sort of collaborative effort is possible whenever water conservation becomes profitable and when farmers can treat their water as a crop.