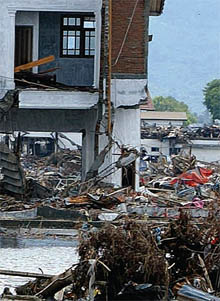 The devastation wrought by the tsunami that struck Sri Lanka in 2004 still exists. The United Nations continues to lend assistance to towns where tsunami-related trash remains piled on the beaches. When trucks haul mountains of trash to designated sorting and disposal sites, they take more than just rubble created by the storm—the program manager collects all of the trash, much of which was improperly dumped or burned long before the tsunami.
Solid waste from hospitals is also a common sight posing health hazards wherever it is dispersed. The collection and proper disposal of waste was never part of community life in these beach towns. However, as the trucks haul away tons of garbage, residents are taking note of their cleaner environment. Not only is the trash collected, but it is also disposed of properly in a landfill, recycled, or composted. By participating in the project, residents are learning through doing and developing a new appreciation for living free from the smell of decomposing garbage and the accompanying flies.
Trash barrels are in frequent use throughout the towns and for the first time ever, people complain when the barrels are full and the trash needs collecting. With no end to the stream of waste, some residents see possibilities for generating income from the collected trash. Recycled materials can be sold, organic matter can create rich compost, and collection services can be turned over to private purveyors.
As people continue to recover from the tsunami, they are finding some unexpected pleasure in their cleaner, brighter towns, and in the possibility of new income sources.