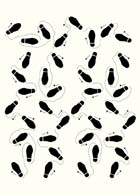 On the European front, a battle is raging over the rights to the title of first ecological nightclub. London's Surya brags that its dancers generate electricity for lights and air conditioning, while Wvatt in Rotterdam insists that it is the only truly sustainable club. Does that mean it could exist in perpetuity?
Despite the hissy fight, the two clubs are attracting young, wealthy clubbers who know the right place to be seen on a Saturday night. Surya opened its doors in early July with a high-tech dance floor that makes its own electricity. As the dancers gyrate, the floor bounces on ceramic blocks that generate a current fed into a bank of batteries. The batteries power the lights and air conditioning. Vigorous dancing can provide 60 percent of the club's energy needs, while wind turbines and solar panels provide the rest.
Patrons who arrive on foot or bicycle are admitted free, and everyone who enters must sign a pledge to help curb climate change. Club owner and business magnate Andrew Charalambous, a.k.a. Dr. Earth, claims his approach to environmental problems is both positive and inclusive. "Club culture is the gateway to a younger generation," he says. Proof that Dr. Earth's plan is working can be substantiated by the number of dancers asking for meters to monitor their personal energy production. Unfortunately, no such device is yet available.
Surya's environmentally correct design is a constant reminder to clubbers to recycle and reuse. The table legs are made from rolled-up magazines, an old ceramic tub serves as a couch, and smashed CDs and cell phones are used as building material for the walls.
Even though a spokesman for competing club Wvatt insinuated that Surya is less than sustainable, and Friends of the Earth pronounced the club's activities incompatible with the environmental group's work to promote low-carbon living, bored aristocrats and small-time celebrities jetted into London for opening night.
Jade, daughter of Rolling Stone Mick Jagger, told the BBC, "Green things and ecology are very important to me. … I'm glad it can come into a forum of fun, because I think a lot of people think being environmentally friendly is boring."
Apparently, Surya is not boring.