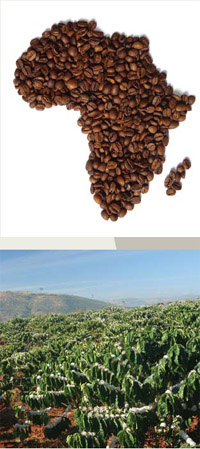 Starbucks celebrated the year-end holidays by introducing an espresso blend that includes Yirgacheffe coffee beans from Ethiopia. The new blend was a hit with customers, giving the Seattle-based company an incentive to strengthen its relationship with this East African nation. Plans are in the works to build a farmer support center in Addis Ababa, Ethiopia's capital city.
The center will work with farmers, exporters, and others to improve the quality of their coffee, helping to insure that Starbucks will continue to buy from them. An agronomist will be available at the center as well as other personnel to help farmers meet the C.A.F.E. standards that Starbucks follows. C.A.F.E. stands for Coffee and Farmer Equity practices and require not only high quality beans, but also set certain social and environmental standards. The farmers benefit from Starbucks' assistance by having a guaranteed market for their coffee as well as by receiving above-market prices for meeting C.A.F.E. standards.
The Seattle Times reports that Starbucks buys most of its coffee from Latin America, opening its first farmer support center in Costa Rica in 2004. The company's current objective is to expand to new regions such as East Africa and countries in the Asia-Pacific region to secure its future coffee supplies. The company is also courting customers who enjoy experimenting with new coffees from different regions. In addition to Ethiopia, both Burundi and Rwanda are growing coffee varieties of great interest to Starbucks, says Scott Martin, director of coffee and tea education and green coffee sustainability. By the end of 2008, the company plans to double its purchases from East Africa, pleasing both producers and consumers.