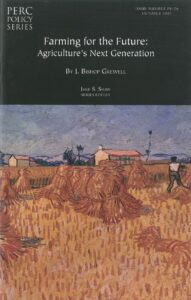 Agriculture has proven that it can feed the world. Ever-increasing yields and changing demographics have ensured the cultivation of sufficient food; only distribution remains an obstacle. Now, agriculture faces a new battle: to clean up environmental damage left by the fight to feed billions.
This paper, "Farming for the Future: Agriculture's Next Generation," by J. Bishop Grewell, explains how a new generation of innovators is correcting the shortcomings of the past. Grewell's essay urges national governments, including the United States government, to avoid policies that discourage such entrepreneurship. The paper is based in large part on The Ecological Agrarian: Agriculture's First Evolution in 10,000 Years, by J. Bishop Grewell and Clay J. Landry (forthcoming from Purdue University Press).
Download the full report, including endnotes and references.