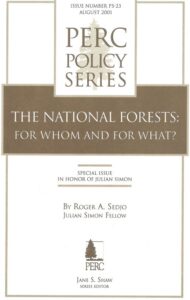 "The nation finds itself struggling with forest management systems that do not work," says Roger Sedjo, a Senior Fellow with the Washington, D.C.-based research organization Resources for the Future. "The future management of the national forests is unlikely to be smooth, because no political consensus exists."
In a paper released by PERC, Sedjo analyzes the problems of the Forest Service and offers possible directions for its future. One hope is that local control, once a hallmark of Forest Service management, may return. The Quincy Library Group in northern California, which developed a local consensus among the forest industry, government, and environmentalists, is an example of this direction. However, such decentralization faces many obstacles. Sedjo doubts that the Forest Service will ever achieve the widespread public acceptance it had fifty years ago.
Roger Sedjo is well-known for his incisive studies of the national forests and of forestry generally, both in the United States and around the world. He was the Wayne Nordberg Julian Simon Fellow at PERC in 2000. The Julian Simon Fellowship brings visiting senior scholars to PERC to conduct research that builds upon Julian Simon's pioneering work in the area of resources and population. At Resources for the Future (RFF), Sedjo directs the Forest Economics and Policy Program.
Sedjo's paper "The National Forests: For Whom and for What?" (PS-23) is part of the PERC Policy Series of papers offering policy recommendations on environmental subjects. It is available on this Web site and printed copies are available from PERC.
Download the full report, including endnotes and references.