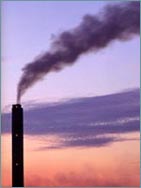 The state of Oregon has recognized several companies for environmentally superior operations that have exceeded regulatory standards. The companies received "green permits," which entitle them to special treatment from state regulators. For example, the number of inspections by the state could be reduced, or required reports to the state could be filed in a more flexible manner. However, the companies are not the only beneficiaries. The state can tally up considerable savings too by not having to devote as many resources to policing activities.
Louisiana Pacific Corp. reduced toxic-air emissions at its wood-products facility in Hines, Ore., to less than 10 percent of the total annual levels allowed by Oregon law. It is also selling left-over wood shavings to recyclers for $100,000 annually, which previously cost the company $100,000 to dispose of properly.
LSI Logic Corp. was recognized for a cleanup program at its chip-fabrication factory in Gresham, Ore. During the past two years, the company reduced the use of toxic chemicals by 25,000 gallons, recycled another 51,000 gallons, and saved 5 million kilowatt hours of electricity. The company is also experimenting with a new water recycling system that could save as much as 180 millions gallons of water a year.
With the greater flexibility that comes with the "green permits," qualifying companies can save money by not having to spend so much time on regulatory matters. Other businesses around the country have recently begun following similar environmental management programs to avoid run-ins with regulatory agencies and maximize savings. Green permits are being issued in 14 other states and the Environmental Protection Agency is implementing a similar program at the national level.

Wall Street Journal