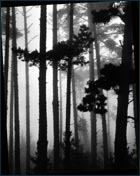 High above West Africa's Upper Guinean rain forest, tourists on gently swaying walkways stroll cautiously through the forest canopy. It is a nature experience still rare even in the realms of eco-tourism.
Kakum National Park, the 140-square-mile preserve where the walkway is located, is home to several endangered species including the forest elephant. It is one of the few intact areas left of what was once a vast rain forest. Already more than 80 percent of the Guinean forests have been lost, and the remaining forests are under threat of destruction from logging, settlement, and agriculture.
The canopy walkway and accompanying visitor center were the brainchild of Conservation International (CI) and built with the support of the Ghana Wildlife Department and the United States Agency for International Development. Ecotourism projects such as this are one of the tools being used by CI to conserve biological diversity and support sustainable development.
When the park was first created in 1992, the number of visitors ranged from none to few. With the addition of the walkway in 1995 and the visitor center in 1997, the park now hosts 40,000 visitors a year. Last year, it took in revenues of $75,000 and employed more than 2,000 Ghanians in park-related jobs.
Oliver Hillel, ecotourism program director for CI, says, "For many communities, ecotourism is an effective economic alternative to destroying the rain forest for quick monetary gain."
Kakum National Park is also a standout with the travel industry. In 1998, it won the annual Conde Nast Traveler Magazine Ecotourism Award.

Tacoma Tribune News