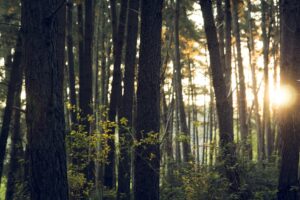 American companies have discovered that planting and preserving trees can reap a wealth of benefits. It can help the environment, it can boost their corporate image, and ultimately it could help the bottom line.
American Electric Power is preserving trees by purchasing a chunk of Bolivian jungle which it plans to donate to an adjoining national park. The trees provide valuable wildlife habitat, clean the air and water, beautify the land and provide recreational opportunities. And, because the Kyoto Protocol calls for a reduction in carbon dioxide emissions, the trees could become valuable CO2 credits. If the federal government establishes an emissions trading program, AEP would be able to sell its credits to companies that must reduce their emissions.
Mobil Corp. has also joined the Johnny Appleseed effort. In partnership with American Forests, which is leading the Global Releaf 2000 program, the company has planted tens of thousands of trees in Virginia, Florida, and Wisconsin this year.
Some conservationists remain skeptical of corporate efforts, but others such as the Nature Conservancy welcome the planting and preservation regardless of motivation.

USA Today