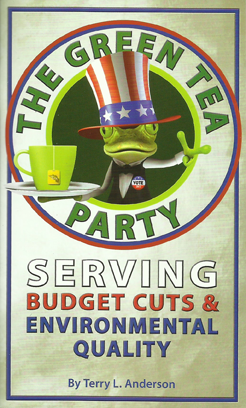 For too long, conservatives have considered the environment to be their Achilles heel. If you are conservative you are in favor of economic growth, free markets, and less government, all of which are seen as the antithesis of environmentalism. In short, as Kermit the Frog understands, "It's not easy being green." But thanks to PERC, you and Kermit can be conservative and green.
That is why PERC is supporting "Kermit for President" under the banner of the Green Tea Party (GTP). While Democrats continue to throw money and regulations at environmental problems, and Republicans continue arguing that jobs and the economy must trump environmental protection, the GTP would build its platform on free market environmentalism. The GTP's platform would have only two planks, both of which focus on prosperity and incentives to drive environmental improvements, not bureaucracies.
The first plank is wealthier is healthier. This plank is built on evidence that environmental quality improves as people get richer and demand cleaner water and air, more wildlife habitat, and so on. Hence, Kermit would appoint PERC senior fellow Bruce Yandle, who helped pioneer this research, to chair his Council of Economic Advisors. Yandle would promote economic growth, not as an alternative to environmental quality but as a necessary prerequisite for it. When coupled with overwhelming evidence from PERC research that economic growth results from secure property rights and a strong rule of law, the GTP has a recipe for improving the environment that starts with economic progress and a strong private sector, not with more federal spending and regulations.
The second plank is incentives matter. Free market environmentalism emphasizes that all environmental problems are property rights problems, which, in turn, implies that all solutions to environmental problems must start with better definition and enforcement of property rights.
The list of qualified "PERCies" to join Kermit's administration in support of property rights and markets is long. Kermit, for example, would tap PERC senior fellow Donald Leal to head the National Marine Fisheries Service. Leal has documented that declining fisheries around the world have not improved with regulations, which limit seasons, boats, and gear. He would implement individual transferable fishing quotas—property rights to fisheries—as a way of lengthening seasons, reducing costs, improving fish quality, and increasing profits for fishers.
As co-authors of a forthcoming book, Tapping Water Markets, PERC research fellows Brandon Scarborough and Reed Watson would be Kermit's choices to head the Bureau of Reclamation and the Corps of Engineers. They understand that these agencies have continually subsidized flood protection, water treatment plants, irrigation, and hydropower. By making water cheaper than dirt, federal policies have encouraged inefficient uses of "blue gold." Scarborough and Watson would tap water markets instead of tapping the U.S. treasury.
Kermit would appoint PERC research fellow Holly Fretwell to head one of the land management agencies such as the Forest Service, Park Service, or Bureau of Land Management. In her book, Who's Minding the Federal Estate, Fretwell shows that the Forest Service lost an average of $3.58 billion per year between 2006 and 2008 while managing lands worth trillions. Moreover, she documents that an estimated 39 million acres are at risk to catastrophic wildfire and another six million are dying from insect infestation. Alison Berry might assist Fretwell. Berry's PERC Policy Series, "Two Forests under the Big Sky," demonstrates that between 1998 and 2005 the Salish-Kootenai Confederated Tribes in Montana earned $2.04 for every dollar they spent on tribal forests, while maintaining endangered species habitat and improving water quality, while the adjacent Lolo National Forest earned only $1.11. Berry and Fretwell would require their agencies to earn a profit or turn the land over to state agencies, tribes, companies, or environmental groups with a record of fiscal and environmental stewardship.
Other PERCies for policy positions: Dan Benjamin, author of "Recycling Myths Revisited," as Director of EPA, Roger Meiners or Andy Morriss, authors of The False Promise of Green Energy, as secretary of the Department of Energy; and Laura Huggins, editor of PERC Reports, for Press Secretary.
Kermit and his PERC-filled administration would be environmentalists who care about results instead of rhetoric. They wouldn't strut their stuff in clothing made from recycled materials while driving their hybrids to an environmental protest. Kermit knows that environmental quality cannot be bought simply by throwing more taxpayer dollars and more regulations at environmental problems. That is why the GTP can promise to deliver budget cuts and environmental quality.
Kermit and the GTP have confidence in a growing number of environmental entrepreneurs who are working to do good for the environment while doing well for themselves. Such enviropreneurs, as they are called at PERC, do not need more regulations and bigger government deficits; they need secure property rights. Property rights lead to entrepreneurship, entrepreneurship leads to prosperity, and prosperity leads to environmental quality.
If you think it is time for environmental policy change, then it is also time to step up your support for PERC. As the world's oldest and largest institute promoting free market environmentalism, PERC's research, outreach, and applied programs show that a sea of red ink is not the pathway to a green planet. If you are really an environmentalist, invest in real environmental policy change by making a contribution to PERC today!
In "On Target," PERC's executive director Terry L. Anderson confronts issues surrounding free market environmentalism. He can be reached at perc@perc.org.